Joining me in the Hot Seat today is author Lisabet Sarai.
Lisabet Sarai became addicted to words at an early age. She began reading when she was four. She wrote her first story at five years old and her first poem at seven. Since then, she has written plays, tutorials, scholarly articles, marketing brochures, software specifications, self-help books, press releases, a five-hundred page dissertation, and lots of erotica and erotic romance – nearly fifty single author titles, plus dozens of short stories in various erotic anthologies, including the Lambda winner Where the Girls Are and the IPPIE Best Erotic Book of 2011, Carnal Machines. Her gay scifi erotic romance Quarantine won a Rainbow Awards 2012 Honorable Mention.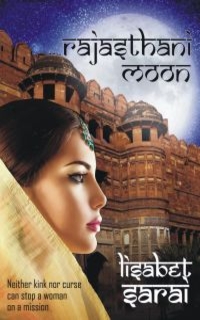 Lisabet has more degrees than anyone would ever need, from prestigious educational institutions who would no doubt be deeply embarrassed by her chosen genre. She has travelled widely and currently lives in Southeast Asia with her indulgent husband and two exceptional felines, where she pursues an alternative career that is completely unrelated to her creative writing.
Q: Can you tell our readers a little about your writing? What genres do you enjoy writing?
What genres? Hah! Over the fourteen years I've been publishing, I've tried my hand at almost every erotica/erotic romance genre except Christian, Western and Recency. I've written M/M, F/F, M/F, M/M/F, M/F/M – contemporary, historical, paranormal, science fiction, steampunk, interracial/multicultural – thrillers, satires, even a romantic comedy. With each new book, I like to challenge myself by trying something new.
Not that this is necessarily the best recipe for commercial success LOL. When they find a book they like, readers frequently want more of the same. In contrast, my fans have to like diversity, the way I do.
There are common themes and characteristics that run through all my work, of course. I'm fascinated by the subjective experience of desire, so although my stories all tend to be more or less explicit, I tend to focus more on my characters' thoughts and feelings than on the physical nuts and bolts of sex. Settings have an important influence on my books. I almost always have a specific location in mind when I write a story, and in some of them (e.g. Raw Silk, Incognito, Necessary Madness), the location is almost another character. Finally, I return again and again to tales of dominance and submission, my first love in the realm of the erotic.
One more thing. I really care about language. So readers might find my books to be a little more
–
I hate to use the term, but I don't know what else to call it
–
"
literary
"
than the romance they're used to. I want to draw them deep into my stories, using words to construct vivid and visceral worlds. I write some poetry as well as prose. I guess that may show.
Q: Do you write on a schedule or when the Muse decides?
I work full time at a rather demanding job, so I have to be pretty stern with my Muse. I've never been able to write in brief snippets. Instead, I dedicate at least one full day per week (usually Sunday) to writing. And on that day I won't stop until I've produced 3-5K, no matter how much my Muse complains!
Q. Do you write about the places you know or prefer to take your readers to exotic places?
As I mentioned above, place plays a really important role in my books. However, I've been to some fairly exotic places in my life – I currently live in Southeast Asia – so I have a wide range of potential locales from which to choose. I have several books set in Thailand, where I lived for several years in the eighties. I've written stories that take place in London, Amsterdam, Provence, Guatemala, India, Cambodia, Laos, Hong Kong... plus all around the U.S., which is where I hail from originally.
Q: Where do you get your inspiration?
Everywhere. I think that's true of most authors. You never know when you'll hit upon a story idea. Anything can be a trigger: a song, a smell, a memory, an item in the newspaper, an overheard conversation.
Sometimes I'll be exercising, or doing the dishes, and a catchy title will come to me. No story, just the title. Once I have that handle, though, a tale is almost bound to unfold.
I tend to do well when given assignments and writing prompts
–
something to get the creative juices flowing. I've written for a lot of themed anthologies. My approach is to try to come up with a twist that turns the theme on its head. For instance, I recently had a tale in an anthology entitled Tied to the Billionaire
–
erotic romance featuring billionaire heroes and ending in marriage. I figured most of the other contributors would write about modern tycoons. Instead I set my tale in the Gilded Age, the first decade of the twentieth century, and my hero is one of the
"
robber baron
"
industrialists who made such huge fortunes during that period.
Q: We have all suffered submission rejections. How do you cope? Do you have any advice to other writers on coping with rejection?
Of course I hate rejections, but I know at this point that I can always find a home somewhere else for a tale that is rejected by a particular publisher or editor. I have very few unpublished works on my hard drive – and the ones that do exist, I have plans for!
The key to surviving rejection is to not take it personally. A rejection is not necessarily a statement about the quality of your work; it has far more to do with the match between what you've written and what the publisher or editor wants. And if you're lucky enough to get specific feedback on problems with your tale, you should be grateful rather than depressed. Of course, the editor may not have understood at all what you were trying to accomplish, but in many cases you may be able to learn from his or her suggestions.
Q: What do you like to read and who are your favourite authors?
Like my writing, my reading tastes are extremely eclectic. In the last few weeks I finished The Dimple of Doom by Lucy Woodhull (humorous erotic romance), The Ice Queen by Alice Hoffman (general fiction), Tigana by Guy Gavriel Kay (epic fantasy) and Metro Girl by Janet Evanovich (humorous mystery). Currently I am reading Dark Secret Love by Alison Tyler (BDSM erotica), 1Q84 by Haruki Murakami (contemporary fantasy) and The Deer Park by Norman Mailer (general fiction). Next up on my TBR pile are a rereading of Gemini Heat by Portia da Costa, the erotic romance that first inspired me to publish, and Gay L.A., a history of gay culture in the Cityof Angels, by Lillian Federman and Stuart Timmons.
Favourite authors? I'll read anything by Portia da Costa, Haruki Murakami, Sarah Waters, D.M. Thomas, M. Christian, S.P. Somtow... However, quite a lot of my reading is opportunistic. I'll go to a book store or a library sale and pick up a book by someone I've never read before, only to find I love his or her work.
Q: Do you write one novel at a time or do you move between works in progress?
Generally I work on one long work at a time. I may take breaks to write shorter pieces for specific anthology calls. Since my writing time is so constrained, I really have to be very disciplined.
Q:
Can you tell us a little about your current novel? What inspired you to write this story?
Rajasthani Moon,
which just came out in paperback this week, was written as a lark. I sometimes get frustrated by the way erotic romance is so genre-centric. By this, I mean the fact that everything is sliced and diced, labelled and put into compartments, as if to protect readers from accidentally reading something different from what they've tried before. So I thought about writing a novel that combined as many genres as I could cram in. Rajasthani Moon is a steampunk/BDSM/shapeshifter/
ménage
/Bollywood/Rubenesque erotic romance. I might have forgotten one or two genres there. It may sound as though the book is a mishmash, but in fact I think it all blends together rather well. And I certainly had a blast writing it!
Let me know what you think. I'll enter everyone who leaves a comment with his or her email address into a drawing for a $20 bookstore gift certificate. This drawing also applies to my two upcoming guest blogs, one at Normandie Alleman's blog (

http://normandiealleman.com

) on Friday the 25

th

and one at H.K. Carlton's blog (

http://pickagenrealready.blogspot.com/

) on the 31

st

. I'll be talking about a different book at each one. Visit them all and maximise your chances of winning!
Neither kink nor curse can stop a woman with a mission.
Cecily Harrowsmith, secret agent extraordinaire, is a woman on a mission. When the remote Indian kingdom of Rajasthan refused to remit its taxes to the Empire, Her Majesty imposed an embargo. Deprived of the energy-rich mineral viridium, essential for modern technology and development, Rajasthan was expected to quickly give in and resume its payments. Yet after three years, the rebellious principality still has not knuckled under. Cecily undertakes the difficult journey to that rugged, arid land in order to determine just how it has managed to survive, and if possible to convince the country to return to the Empire's embrace. Instead, she's taken captive by a brigand, who turns out to be the ruler's half-brother Pratan, and delivered into the hands of the sexy but sadistic Rajah Amir, who expertly mingles torture and delight in his interrogation of the voluptuous interloper.
Cursed before birth by Amir
'

s jealous mother, Pratan changes to a ravening wolf whenever the moon is full. Cecily uncovers the counter-spell that can reverse the effects of the former queen

'

s hex and tries to trade that information for her freedom. Drawn to the fierce wolf-man and sympathising with his suffering, she volunteers to serve as the sacrifice required by the ritual

―

offering her body to the beast. In return, the Rajah reveal Rajasthan

'

s amazing secret source of energy. In the face of almost impossible odds, Cecily has accomplished the task entrusted to her by the Empire. But can she really bear to leave the virile half-brothers and their colourful land behind and return to the constraints of her life in England?
Sprawled on the floor, tangled in her clothing, Cecily glared up at him. A swathe of dark cloth wrapped around his head hid everything but his deep brown eyes. Sheltering under elegantly arched eyebrows, those eyes glittered with malice and craft. He had long, lush eyelashes that any woman would envy and a high forehead that bespoke considerable intelligence. A brute, no doubt, but scarcely dumb. She'd have to move with the utmost care.
"
If you will put somewhat more distance between your blade and my flesh,
"
she began, keeping her voice sweet and level,
"
I will be able to reach my money. It
'
s pinned into my waistband.
"
The bandit
'
s eyes flicked to her bare midriff. She let her hand drift down towards the concealed pistol as though she were about to extricate a hidden pouch of coins.
Before she could reach her goal, he shot out his hand, catching her wrist in an iron grip.
"
Allow me.
"
He slipped his dagger into a sheath slung across his chest, then grabbed her other wrist and pinned it with the first. His hand was large enough to encircle both of hers.
Now, then
…"

He trailed his fingertips across the naked gap between her blouse and her skirt. Electricity sizzled up Cecily

'

s spine. The next thing she knew, he slid his hand under the fabric of her skirt, rooting around for items more solid than her soft, round belly.
He groped for a moment, while she held her breath. His calloused fingers struck sparks from her flesh. Of course, he discovered her weapon almost instantly. He drew it out, chuckling once more when he saw its size. Her skin mourned the loss of his touch.
"
What a surprise! A gun instead of the promised gold.
"
He tightened his hold on her wrists until she feared the bones would snap.
"
Who are you, my lady? Not, I think, a common traveller.
"
"
That
'
s none of your concern
…
sir.
"
Cecily decided that it might be wise to be polite.
"
Oh, I think it is. Not many women travel on their own across the wastes of my country, especially in the most modern of conveyances. Those that do are wise to carry a weapon
―
but this one will not help you. Who sent you, madam? What is your business here?
"
"
I
'
ll not share my business with a common brigand.
"
"
And if I were someone else? Would you tell me then how and why you happen to cross my path?
"
Cecily of course had a cover story. Her documents attested that she was the sister of a wealthy Bombay textile merchant, come to Rajasthan looking for business contacts. She was not, however, about to divulge anything to this rogue.
"
I will tell you nothing.
"
"
Indeed? I think I may be able to change your mind.
"
After tucking the pistol into the folds of his garment, he drew out a length of what, aside from its strange silvery colour, looked like common rope. He dangled it near her trapped wrists.
"
Bind,
"
he said.
The rope came alive, coiling like a snake. Quick as a cobra strike, it looped itself around her forearms
―
once, twice, half a dozen times, pulling tighter with each cycle. Before she could devise a plan, Cecily found her crossed arms were laced together as firmly as the back of a corset.
"
How dare you? Untie me at once!
"
"
So that you can stab me? Or shoot me? Who knows what other cunning devices you have hidden about your charming person? No, on the contrary, I think I
'
d be wise to bind your legs as well.
"
He climbed into the carriage, bringing with him a strong odour of horse and male sweat. Although the vehicle was designed for two passengers, his considerable height and broad shoulders made it feel distinctly crowded, especially with Cecily
'
s non-trivial bulk occupying a significant area of the floor. He crouched down and reached for her ankle. She scooted away, kicking out at him. Her boot connected solidly with his shin.
"
Shiva
'
s balls!
"
he cursed.
"
That hurts!
"
She cocked her knee back for a second blow, but he caught her foot in mid-kick and raised it until her leg was almost at right angles to her prone body. Her skirt slipped down, baring her knee and part of her thigh, and releasing a flood of her woman-scent.
The miscreant
'
s eyes widened. No doubt his nostrils flared as well, but they were hidden beneath his impromptu mask. Had Cecily been a fair English rose of a woman, her cheeks would have burnt bright pink. Her mixed heritage allowed her to hide her embarrassment.
Instead, he seized her other ankle, brought her leg parallel to the first, and whipped out another of his devilish self-binding ropes.
"
No, please, sir!
"
Seeing that outrage would get her nowhere, Cecily decided to try deception. If he bound her legs, she would never be able to escape him.
"
Stop, please. I will reveal everything to you.
"
"
Of course you will, madam.
"
The mockery in his voice stung, especially when she remembered that most of her lower body was now visible to his sharp eyes.
"
Back at my quarters. Bind.
"
In an instant, the robotic shackles wound themselves around her calves and ankles. She tried tensing her muscles, so as to create some slack later. The device clamped down with relentless power, forcing her to relax.
"
There. I hope I
'
ll be safe now from your most unladylike aggression.
"
Cecily fumed inside, but managed to maintain a calm demeanour.
The bandit grasped her around the waist with both hands.
"
Just have to get you out of this coach and onto my horse
…"
His rough fingers dug into her bare flesh, yet she missed the pain when he released her after heaving her body up onto the seat.
"
You
'
re not exactly delicate, but that
'
s fine with me. I prefer a woman with some meat on her bones.
"
The substantial bulge in his dusty black pantaloons made his meaning more than clear.
https://www.totallybound.com/index.php?route=product/product&author_id=17&product_id=3032