Hi HC, thank you for having me at your blog today!
Great to have you here. Can you tell my readers about your new release Hollywood Bound?
A Little Bondage from the Gin & Jazz Era
Hollywood Bound (Gin & Jazz 1), was just released and is only 99 cents! The Gin & Jazz series begins in 1924, and follows the story of the young and innocent Jack Stone as he travels from a vaudeville theatre in New York - with his best friend and new lover Nick - to Hollywood. They hope to find great jobs there working as set builders at a motion picture studio. It's such a grand adventure because everything is so new to them. From hopping a train, to being intimate, to the excitement of being in Hollywood – they don't know what to expect next.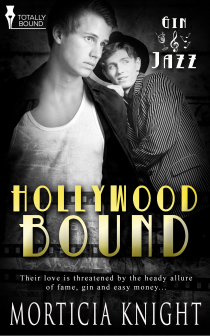 Now that Nick has finally claimed him as his lover, Jack is the happiest he's ever been. But being so naïve, he has no idea about all the ways of physical love. Nick is inexperienced too, but his natural dominance leads him to try new things with Jack. Nick saw how excited Jack became when Nick held him down with his hands, so he takes it a little farther. In this excerpt, Nick has tied Jack to the bed, and is teasing him.
Jack and Nick seek fortune and adventure in the silent film era of Hollywood. But their newly-expressed love is threatened by the heady allure of fame, gin and easy money.
This time, Nick gently caressed and teased the underside of Jack's nut sacs. He watched, transfixed by the lean young man's sinewy muscles as they twitched and worked under his skin, Jack seemingly anxious to put his exposed dick into anything just to find some relief. After playing with him some more, Nick knelt down at the bottom of the bed by Jack's feet. He licked Jack's soles, tickling the arch with his tongue.
"Jesus, Nick, where'd you come up with all this stuff? You're drivin' me mad."
"Shhh, Jacky. Don't make me gag you too. Just feel what I'm doin'."
Nick took one of Jack's toes into his mouth, and sucked on it like a piece of hard candy. He did each one individually, then began to travel up Jack's legs, liberally sprinkling kisses along the way alternating with little nips of Jack's flesh. Nick could only imagine how on fire every nerve in Jack's body must be. He was careful to avoid Jack's groin area, but couldn't resist licking the sensitive crease where his pelvis joined with the top of his thigh. Nick continued up Jack's torso, stopping to scrape his teeth over his taut nipples. At last he reached Jack's throat, and kissed him unrelentingly there, careful not to allow his hands to touch him at all.
Jack's response was more than he could have hoped for. His head thrashed and he twisted in his bonds. He alternated with cries of mercy and blissful groans.
Nick decided to put him out of his misery.
"Okay Jacky boy, you've done real good. You can come now."
Nick grabbed Jack by the root, and sucked him in. He furiously licked and ate him, yanking him off at the same time. In less than a minute Jack yelled out so loud, Nick was afraid it would bring the police. He slapped one hand down on Jack's face to stifle his cries, but didn't let go of his cock with the other. Jack came violently in Nick's mouth, gushing over and over again. At last he stopped, his dick still jerking at the slightest movement or touch as Nick let him go.
Jack gasped for air, a flush to his chest and face quite visible, beads of sweat pouring down the sides of his body.
Nick sat up on his knees and drew closer to Jack so that he could see into his eyes. He brushed the damp pieces of hair back from his forehead, and caressed his head gently, stroking him over and over.
"Geez, Nick. It was unreal—so fantastic. You are…oh God, Nick, I love you so much…"
I shouldn't feel this uncomfortable when he talks like that. He's just being himself.
"There, there. Let's get you untied, and we can nap a bit. You must be tuckered out."
"Will you hold me, Nick? Please?"
"Yeah, Jacky boy. I'll hold you."
To get your copy of Hollywood Bound for only 99 cents:
or @morticiaknight on twitter, and Morticia Knight on Facebook.