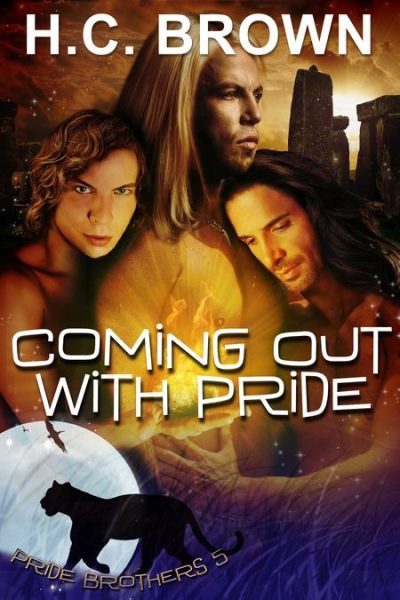 I hope you'll enjoy my new Pride Brothers Book.
Blurb:
Prince Jannus of Knight Watch turns his back on tradition and seeks a male for his mate. His preference is for a human to submit to him in and out of the dungeon.
Once a year at Samhain, he opens the gate to his world and sends his faithful Elf to collect suitable men for him and the other Doms seeking delicious subs for mutual pleasure.
Brad Archer's desire to come out and find a strong handsome Dom has become an obsession. Heading to Stonehenge to join a festival, he meets a stranger who lures him to another dimension crammed with Doms more than happy to take him for a walk on the wild side.
Buy links:
Amazon
Also available on Kobo, iTunes, Barns & Noble and Coffee Time Romance.
Excerpt
The Great Book of the Prides – personal entry by King Blaise of Knight Watch

I have decided not to interfere with Jannus' preference for males. I have many sons who enjoy the company of men, and my pride is growing larger with many of my sons and brothers taking both male and female to mate.

Jannus follows my brother Zandor's enjoyment of domination, a trait I see becoming very popular amongst the Prides of late. With the help of Nox, Jannus has built a dungeon deep in Crystal Mountain with a gate directly to the human world. I hope that this year Jannus will find the man of his dreams.
Chapter One
Prince Jannus of Knight Watch lounged in a large leather chair and gripped the head of the Elf bending between his knees. "Use your teeth to undo my pants, show devotion to your Master."
Si did a good enough job of licking his leathers but he needed more than an Elf to satisfy his needs.
He craved a human, a Nomag, Nox the King of the Fae called them, for they had no magyck.
His uncles, Dare, Rio, and Zandor had mated human females and the scent of them drove him to distraction, but he had no desire to fuck them or mark their alabaster skin. He preferred males and his refusal to consider a female for a mate had troubled him before Nox had explained his own desires. It had been Nox's idea to create a dungeon with a Gate to the human dimension to cater for his desires and other Pride like him. He had enjoyed three years with the Samhain Six, the males, Nox had chosen to Dominate this secret place. He had enjoyed the company of many delicious subs, but his cat refused to accept any of the males as his mate.
Tasting the joy of marking human skin and inhaling their unique scent had become an obsession and he could not get enough. He stroked Si's cheeks, encouraging him to suck him deeper then shuddered, filling the Elf's mouth with his seed. Rather than exultation, emptiness surrounded him. He needed a mate, and the uniquely passionate connection with both mate and cat all Pride strived to achieve. Somewhere, the Lady had designed a man just for him. Perhaps this Samhain, his mate would find his way to the Gate.
He smiled at Si and waved him to his feet. "Go now and find some delicious men for our games tonight." He lifted his chin. "I want, Nomags, young and handsome. Find me a special male and I will keep you as my slave."
"Yes, Master." Si licked his lips. "I will find you a suitable male or I will not return."