It's great to have you here today.
I'm sure my readers are dying to discover all about you and the second book in the Dance of Love Series Tiny Dancer.
Take it away Diane :-)
Born to Dance… Dying to Love
At twenty-four, Samantha O'Brien scores her dream job as a dancer at the famous Moulin Rouge, only to arrive in Paris to find her well-laid plans in disarray. Fortuitously, Sam is rescued by the eccentric, tarot-card reading proprietress of Hotel Hollandaise, who cautions that Paris is for lovers, but not always love.
As Sam launches into her new career, the show's super sexy, Sicilian stage director, Tony Di Falco reveals he is more than just a creative genius and hard taskmaster, leaving Sam to wonder whether secrets, specifically her own, are indeed best shared.
Meeting Philippe Lacroix, a struggling, young artist in Montmartre saves Sam from imploding under the pressure. He introduces her to the city of love, captivating her with his angelic good looks and sensuous touch. Yet the mounting attraction intensifies between Samantha and her passionate nemesis Tony, and a tense, sexually-charged relationship threatens to overwhelm them both. But the show must go on.
Filled with backstage bitchiness, tough rehearsals, a sprinkling of cocaine and the French addiction to cigarettes, Samantha grapples with her new life. Then without warning, Sam's destiny changes literally before her eyes and she finally discovers that even in the most romantic city of the world, you don't find love, love finds you.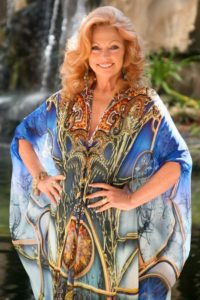 Being a passionate woman who's always done things a little differently, Diane spends her time living, loving and appreciating life. She began her professional journey as a school teacher before moving into an exhilarating career as a dancer, choreographer and director. A rebel with a cause, Diane followed her quest for truth into the field of self-development, where as a stress & life skills therapist, life coach and keynote speaker, she taught methodologies of self-empowerment and conscious living. Assuming the pseudonym of the Goddess of Love, she appeared on national radio and the television program Beauty & the Beast.
Now as an author, Diane writes sensual love stories with a twist. Laced with dance and the divine feminine, her works feature empowered heroines who live life to the fullest, much like the author herself. Her debut novel, Dancing Queen was voted Luminosity Publishing Reader's Choice Best Book and Best Cover 2015. Connect with Diane
www.dianedemetre.com
Buy Links: